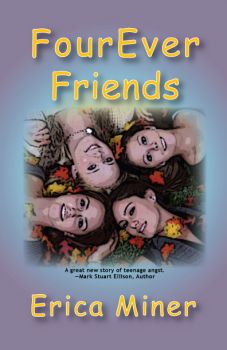 "They were all looking for love.
They just didn't know it yet."
Synopsis
It's autumn of 1960, and JFK's presidential campaign heralds revolutionary changes in the American social and cultural landscape. JESSICA, an ingenuous, talented high school music student, has established roots of friendship with three other young women who share her passion for music and angst over raging hormones. TOMA and RACHEL have Jessica's Jewish background in common; but MARG, Jessica's beloved best friend, comes from a Catholic family and embodies Jessica's rebellion against her own Jewish-ness.

The girls' inner city Detroit high school is a cultural melting pot of race and ethnicity in which students are judged by their intellect and talents, not the color of their skin or religious background. Thus the inseparable Jessica, Marg, Toma and Rachel negotiate the turbulent waters of adolescence and bond through their music performances throughout the city, joyful in sharing their creativity.

Jessica depends on Toma's tumultuous home as an escape from her own stifling parents, who forbid Jessica to date GUNTER, a German-born Gentile youth five years older; she depends on Rachel for sophisticated, though not well-informed, advice on sex; but she always looks to Marg for unconditional love and sisterly companionship.

The four young women survive high school, but Jessica's imminent departure for college in far-off Boston causes concern among the troupe: will they be able to maintain their closeness in future years, when more possibilities of separation by miles may threaten the sanctity of their group? They can't yet know the answer, but they swear lifelong fealty nonetheless, as Jessica sets off for her new life.


What Critics are Saying
"From the minute I began reading this book, I was taken back to a time period where my closest friends and I were: walking down the school hallways dreaming about all the wonderful things that would happen in our future (when we got out of the "stuffy" old school; gossiping in my best friend's bedroom in the middle of the night about the ONE's that we were madly in love with; and, the dark movie theater where we giggled about something that was way more important than the movie, upsetting all the people around us who actually wanted to hear the movie. This is that kind of fantastic novel that is so well-written that the sights, sounds, anxiety, and dreams of yesterday come to the forefront of your mind.

It is the 1960's, one of the most tumultuous times in history - especially for teenager's who thrive on angst. Jessica is a violinist and her best friend is Marguerite, a master at the cello. They met in a special school for gifted students and have been friends ever since. Now, Tamara and Jessica have been friends since they were ten years old, although they have grown apart recently because of how different their interests became - sort of like apples and oranges as they grew older - but they're still very close and care a great deal for one another. Rachel makes up the foursome; she's one of those outgoing, fun girls who just loves life and doesn't want to waste one moment of it. When they met Rachel, the group went from The Three Musketeers to the FourEver Friends.

The reader has an absolute ball watching the four girls as they struggle through everything from love and romance, to the politics and social prejudice that surround them every day. One of the most interesting storylines for me was Jessica and the "love of her life," Gunter. Gunter is five years older, and where Jessica is from a Jewish immigrant family, Gunter is not and Jessica's mom has a hard time with these differences. Marguerite dislikes Gunter for a whole other reason; Jessica is her best friend, and Marguerite is a little unsure of him and what his intentions actually are.

Jessica wants nothing more than to make her father proud; a man who would've been the very best musician in his time except for the fact that when the Great Depression hit he had to get a job in a factory and lost his fingers in an accident. So Jessica practices her violin constantly, as she faces a new romance at a Summer Youth Music Camp (her first real taste of freedom), new friendships, and the changing times.

All different sights, sounds, and historical references - including JFK's Labor Day speech in the Motor City; the "melting pot" that America was trying desperately to become, rallying behind Martin Luther King; Cuba, Castro, and Columbia sit-ins that changed a nation and sparked a generation to rise up and try to better their country...all of this history will make readers laugh, cry, and relive monumental moments through the eyes of absolute innocence.

Enjoy this...it's one of a kind.
" - Amy Lignor, Book Pleasures.com , A Beautiful Look Back at a Better Time!
"Adolescence is a time of exuberant passions and dreamy hope. Inevitably, it's curbed by our parents' suffering and crushed dreams. In her new novel, FourEver Friends, Erica Miner looks back at the lives of four girls growing up in Detroit in the early 1960s. Warm, hopeful and forlorn, the story reminds us of a time when we thought growing up was the solution for everything." - Joyce Faulkner , Author
"In the first few pages of FourEver Friends, Erica Miner manages to convey all the fears and dreams of four teenage girls negotiating their exciting new lives in high school at a time when JFK, the dynamic new president, was implementing a bold new plan for the country. The main character, Jessica, has a warmth and sincerity that makes her come alive, and her hopes for the future perfectly reflect the world around her." - Carol Pinchefsky , Writer, Editor
"A heartwarming story of dreams, love and friendship set against a vividly drawn historical backdrop of 1960s America. Teenagers and parents alike will be drawn into the story by Erica Miner's clear and beautiful prose. The characters feel like real people - and you, the reader, get to peek into their lives and become a part of their friendship group. The characters and the story reach into your heart and nestle there, staying with you long after you turn the final page." - Dallas Woodburn , Author
"Teenage protagonists come of age in an era of precarious politics, social unrest, and racial intolerance in Erica Miner's angst ridden tale, FourEver Friends. As we travel through the tumultuous world of 1960s youth culture, we come to realize that only love is eternal. A gripping story, beautifully penned by a woman who honors the gift of friendship." - Cynthia Brian , New York Times Best-selling Author, The Oprah of the Airwaves, Starstyle-BE THE STAR YOU ARE!
"The theme of FourEver Friends -- the teenage angst of a Jewish girl and her budding love for a German boy during America's postwar years -- is fascinating." - Mark Stuart Ellison , author of Author of Dear Mom, Dad & Ethel: World War II through the Eyes of a Radio Man
"Erica Miner's expansive experience as an eminent journaler and diarist come through loud and clear in this nostalgic--and up to date!--look at what it is to be young again." - Carolyn Howard-Johnson , author of the multi award-winning This Is the Place



* The quote, "Mystery doesn't get ANY better than this!!!! Buy it ASAP!" is by Amy Lignor, BookPleasures.com.
An Excerpt from
"FourEver Friends"
Once Jessica considered her mother's advice about staying loyal to Toma, she and Marg happily accepted Toma into their intimate triumvirate. The Three Musketeers, they declared themselves. Friends forever.

Rachel's arrival on the scene completed the picture. Rounded and curvy where most teenagers weren't, jovial and fun to be with, the contrast she provided was almost too much for Jessica's shy, serious nature.

"You've got curves, Jessica. Don't hide them, play them up. Boys like that, you know."
"Like what?"
"A girl with curves."

Jessica blushed as she always did when Rachel brought up the opposite sex. "I don't want to bring more attention to myself."
"Are you nuts? Flaunt it, baby." Rachel let out one of her characteristic belly laughs. "I think you're just not ready to grow up yet."

Rachel's comment gave Jessica pause.
Is she right? Do I want to stay innocent and childlike forever?

Once she got used to Rachel's fun and witty conversation, Jessica found her candidness and risqué views refreshing. This aspect of Rachel came in quite handy when Jessica found her first love.

Love, she discovered, can be so disruptive. Just when Life appeared to be moving along at a smooth pace, her work all getting done and support available from female friends, Gunter showed up.
I'm too young for this.

Jessica realized this later, once the magic of Gunter's dazzling smile and penetrating gaze was no longer upon her. But while it was happening, she was oblivious to anything but his presence.

The bombshell dropped in her Elements of Music class. Jessica took her seat toward the back of the room on the first day, expecting to be bored. And there he was, looking at her. Staring at her. The classroom faded to the background. Two desks apart, with one laser beam connecting them, the chemistry between them sizzled.

"I'm Gunter." His English had a slight, charming accent. "And you?"
She lowered her eyes, as if to hide her fluttering heartbeat. "Jessica."

Jessica had never thought a great deal about what type of male attracted her. There had been a brief crush on her brother's friend Roger, the only Jewish boy whose dark Semitic looks had ever appealed to her, and of course Mike, with his blond locks and adorable dimples.

But with Gunter, it's … different.
Within five minutes of the first words they exchanged, Jessica felt taken with him to a degree that took her breath away. She wrote about him in her diary that night.

"Somewhat good-looking. Dark-haired, with glasses and of average height. Just like Dad."

But Gunter also had a beautiful, deep voice and a suave, sophisticated way of talking, with the slightest European inflection. Jessica had a weakness for accents. He was also older, a lot older. She found out when they lingered after class that first day.

"I'm eighteen, almost nineteen," he told her. "My family came from Germany five years ago, and I had to make some major adjustments with the language. That's why I'm still in high school."

Jessica swallowed hard, her tongue sticking to the roof of her mouth. She had no doubts as to her mother's reaction to this information.

German, and almost five years older! It doesn't get any worse.

"But I'm making rapid progress, and I'll probably be graduating within a year or eighteen months. C'est bien, n'est-ce pas?"
And he speaks French!
Jessica unstuck her tongue. "Ah, oui, bien sur. But how did you know I speak -- "

His eyes twinkled. "Just a hunch."
Between the way Gunter looked at her and the pull she felt on meeting him, Jessica began to panic.

He's so charming, so intelligent, so sophisticated, so ... German. And so much older. My mother will have a fit. I'm not ready for this. Why did it have to happen now? God, he's wonderful.

But when Jessica looked to Marg for confirmation of this, the response she got was unexpected.

"He's a wolf." Marg reacted without hesitation. "His reputation is known all around school. He's run after every junior and senior girl in Madrigals. Just ask any one of them."

And Jessica's bubble suddenly disintegrated into minuscule droplets of water.