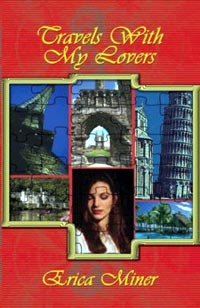 Who knew the language of love could be so international?
"Travels With My Lovers captures the sights and sounds of romantic locales and in rich sensory detail realizes a powerful narrative...Erica weaves clarity, poetry and style into her narrations, leaving the reader captivated and longing to read more...(Her) style is truly engaging, and I find myself re-reading sections when I need a lift from the every day, mundane things of life."
-- Jackie O'Neal, O'Neal Media Group

"I just finished Travels With My Lovers. Your book made a dull business trip so much more enjoyable - thanks so much! Your characters are so well fleshed out, so three-dimensional. I had to go back to read the back cover again to make sure that the book was really fiction. Congratulations!"
-- Roland Schaeffli, Journalist, Zurich, Switzerland
Synopsis
A shocking discovery about her husband forces an independent career woman and mother of two out of her comfort zone and into the world of dating. Convinced that traveling is the consolation she needs for her devastating wound, she picks herself up, and travels to Europe, with and without her kids. In a series of voyages at different stages of her life, she unexpectedly finds love - in a myriad of languages.
What Critics are Saying
"A heady and exotic read ... as I'm reading I should be listening to classical music, sipping red wine, wearing silk pajamas and eating bon-bons." - Eveline Maedel
"Her words flow like wine: hypnotic, and rich to your senses." - Kimberly Hayes , Creations In Writing
"As hot as a Florentine cobblestone in July ... a treasure trove of ... authenticity ... honesty ... benediction to the human spirit -- a must read!" - Christine Hohlbaum
"Chronicles a woman's sexual awakening with humor and wisdom." - A. Brozio-Andrews , AbsoluteWrite.com



* The quote, "Mystery doesn't get ANY better than this!!!! Buy it ASAP!" is by Amy Lignor, BookPleasures.com.
Buy Travels With My Lovers now, at:
Amazon.com
Barnes and Noble

In the San Diego, CA area,
Travels With My Lovers
is available at:
The Book Works Del Mar
858-755-3735.


An Excerpt from
"Travels With My Lovers"
Then I found out that Gérard had saved the best Château for last.

Azay-le-Rideau was an exquisite, miniaturized gem on an intimate bend in the River Loire, with a cobalt blue roof and perfectly symmetrical turrets to match. The sight of it left me breathless. We admired it from all outside angles, entered and followed the crowds through the unadorned but magnificent hallways and up the imposing stone stairways. Unlike some of the other castles, its interior was bathed with light, an effect emphasized by the near-whiteness of its stone walls and staircases. When we had gotten to the upper limit allowed to the public, I spied a rope blocking off the upper top floor and began to descend the staircase.

Gérard stopped me. "Hang the rope. Let's see what's up there."
"But it's not allowed. That's obvious from the rope suspended over the stairway."
"Who's to know?" He glanced around quickly to see if anyone was looking, seized my hand and led me up the stairs.

It soon became evident why the uppermost regions of the castle were off-limits. The floors were in disrepair, as were the walls. This did not bother Gérard. Seeing a closed door, he tried to unfasten it, and after a considerable amount of effort he managed to pry it open. Pulling me inside, he closed the door behind us.

We had entered an otherworldly atmosphere, a large, cavernous attic with uncharacteristically high ceilings, where assorted antique items were stored which hadn't yet found homes. In spite of its lack of decor, the room had a vibration of ancient times and events oozing from every corner. We looked around, awed, at this quiet, enchanted place.

Then Gérard pulled me to him, leaned over my ear and whispered.
"I want to make love to you here."
"What? Here? What if someone… catches us??
"No one will." He enveloped my neck with hot kisses. "It's off-limits, after all. Oh, I'm so turned on by you."

My mind raced as I considered the consequences of such an audacious act.
What could happen if we're caught? We'd be thrown out of the castle, for sure, but would we be arrested? Would I be thrown out of the country?

Ancient voices whistled around my ears as I pondered my fate. The atmosphere was so intimate, so steeped in antiquity. It would be like joining a guild of spirits, former lords and ladies who had stolen behind this ancient wooden door and indulged in their private fantasies. I threw caution to the winds and let myself be carried away by the passion and desire of my companion, one of the descendants of these voices from the past. We made love, excited and frightened by the threat of being discovered. And for a few brief moments, I became a denizen of that ancient Château of the Loire.